The Duoplane support team is dedicated to getting answers to your questions and solutions to your needs as quickly as possible. We are a distributed team with staff located across the United States and Canada, and generally operate weekdays from 6am-5pm PST.
If you'd like to get in touch with a member of our support team, there are resources and several avenues of communication, all of which are available at any plan level.
Online support center
The Duoplane Support Center has various resources, guides, and troubleshooting articles to help either vendors and retailers. On the Support Center page you can browse articles by category or search keywords to find articles that may help.
We recommend visiting our support center to find answers to some of the more common questions.
Link >> Duoplane Support Center
Support widget
While logged into your Duoplane account, you can click the "?" icon in the upper right of the header to bring up the support widget. This widget allows you to quickly search articles in the support center knowledge base, or use "Contact us" to reach out to us by email if you are unable to find an article answering your question.
In the example below, we searched 'vendor shopify' to find an article detailing how a vendor can connect their Duoplane account to their own Shopify store.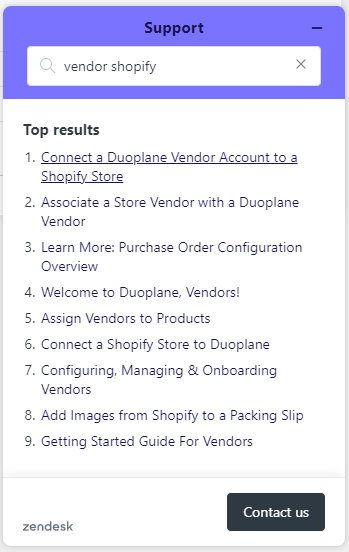 Community forum
If you cannot find an answer to your question in the online support center knowledge base, it may have been asked already on the community forum. The forum is for more specific questions but still might apply to the scenario to which your question relates. You also might find something shared that sparks an idea of how you could improve your workflow in Duoplane.
Please note the community forum is in beta, however it is growing with every question asked and answered!
Link >> Duoplane Community Forum
Email support
If you are unable to find your answer in the support center knowledge base or community forum, or you know your question is very specific or particular to a unique problem, you can reach out to us via email at support@duoplane.com.
You can also reach Duoplane support by clicking "Contact us" in the widget located in Duoplane or on the support center website. This will give you a form to fill out with your contact information. This method will send your request to support@duoplane.com as well, where it will be organized in our Zendesk Support software.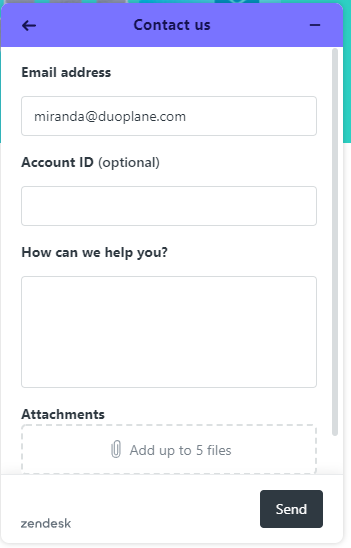 Email >> support@duoplane.com
Technical phone support
The Duoplane support team offers phone support for technical issues, walkthroughs, or troubleshooting. Because most frequently asked questions or setup instructions are available in our support center, we advise you review those resources before reaching out to us as they may have answers to your questions already.
Please note that phone support is by appointment only and email is the fastest way to be in touch with us.
Urgent support
Email at support@duoplane.com is the fastest way to be in touch with a Duoplane staff member. Whether the issue requires developer support or is complicated or not, it will likely require some troubleshooting and investigation on Duoplane's part, therefore it is always helpful to provide as much pertinent information as possible.
If a matter is affecting your business in real-time please indicate that it is urgent in the subject line. Duoplane has support staff reviewing the emails frequently from 6am-5pm PST, and daily over weekends and holidays.