You can use Duoplane to help keep your accounting records straight and ensure that all invoices owed and paid to vendors are neatly tracked, organized, and recorded. Duoplane gives retailers and vendors the ability to input invoice information, which provides a flexible and easy to use process that can be helpful when working with many different vendors.
Summary of the accounting process
Specific processes may look different from business to business. However, the general overview of the accounting process in Duoplane is:
The vendor submits the invoice number with the shipment, either at the time the shipment is uploaded or after the fact.
The shipment is assigned to the invoice - multiple shipments can be included on one invoice
The invoice is sent for approval if necessary, then added to the invoice records.
The next steps will be followed if an item is marked as returned:
Approve the return for a refund
Record that you have received a credit memo from your vendor
Further information on the returns process can be found here.
Submitting Invoices
Submitting an invoice with the shipment
When a shipment is created for an order, Duoplane presents the option to add an invoice number to the shipment. By entering an invoice number and hitting save shipment, you will associate that shipment with the specified invoice number. An invoice can contain as many shipments as is necessary.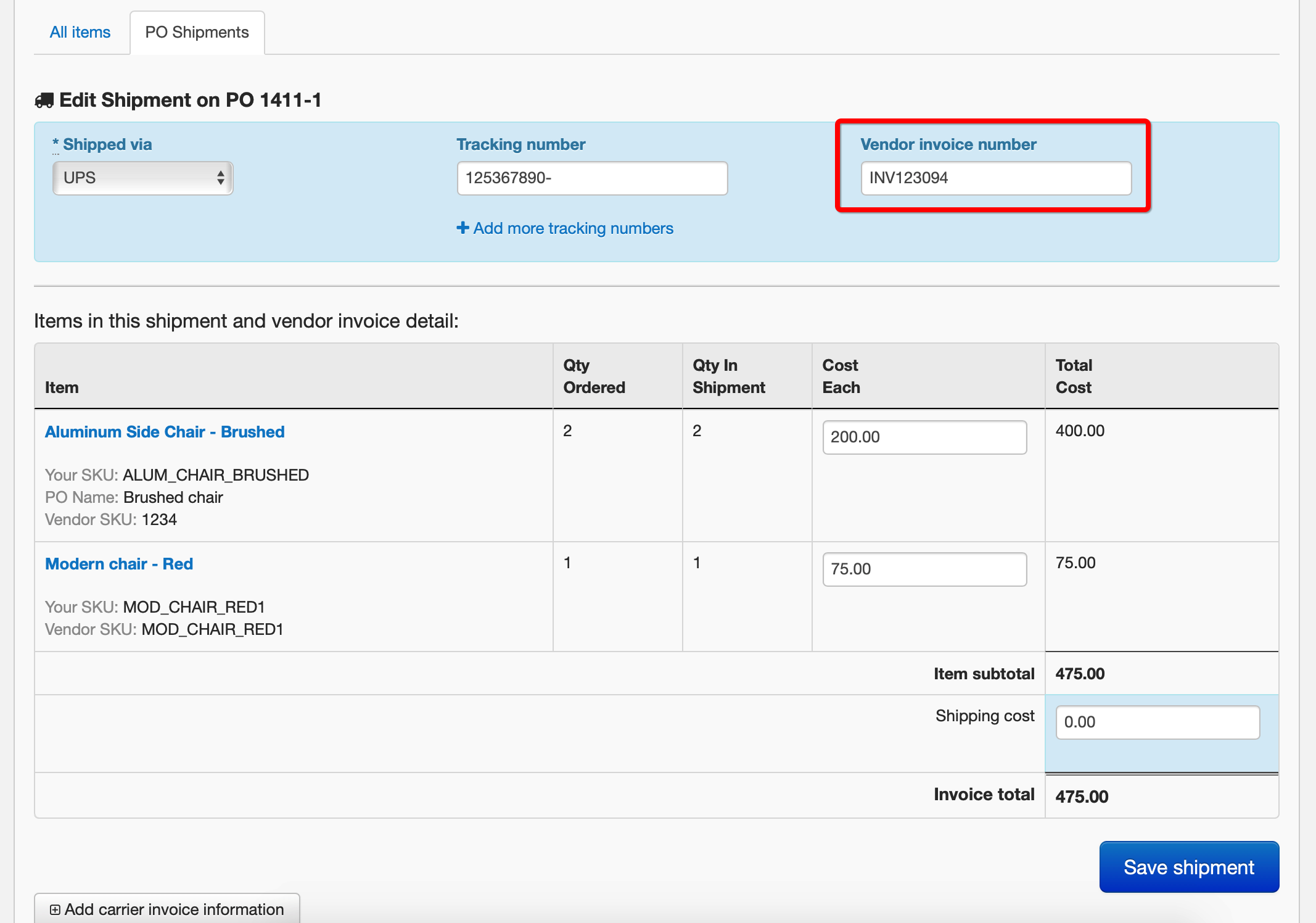 The invoice number can be submitted with the shipment no matter the method of shipment upload or entry. For example, a vendor can input the invoice number on the shipment in the portal if that is how they submit shipments. If another vendor were to use a CSV file to provide shipment data, they could also include the invoice number on their CSV and it will be assigned to the shipment.

Submitting invoices in bulk
An invoice number can be added to shipments after they have been submitted. For vendors, this can be completed by going to the orders tab, then clicking "Invoice". This will show all shipments that do not have an invoice number associated with them.
For retailers, this can be done by going to the Accounting tab, then clicking "Shipments not yet invoiced".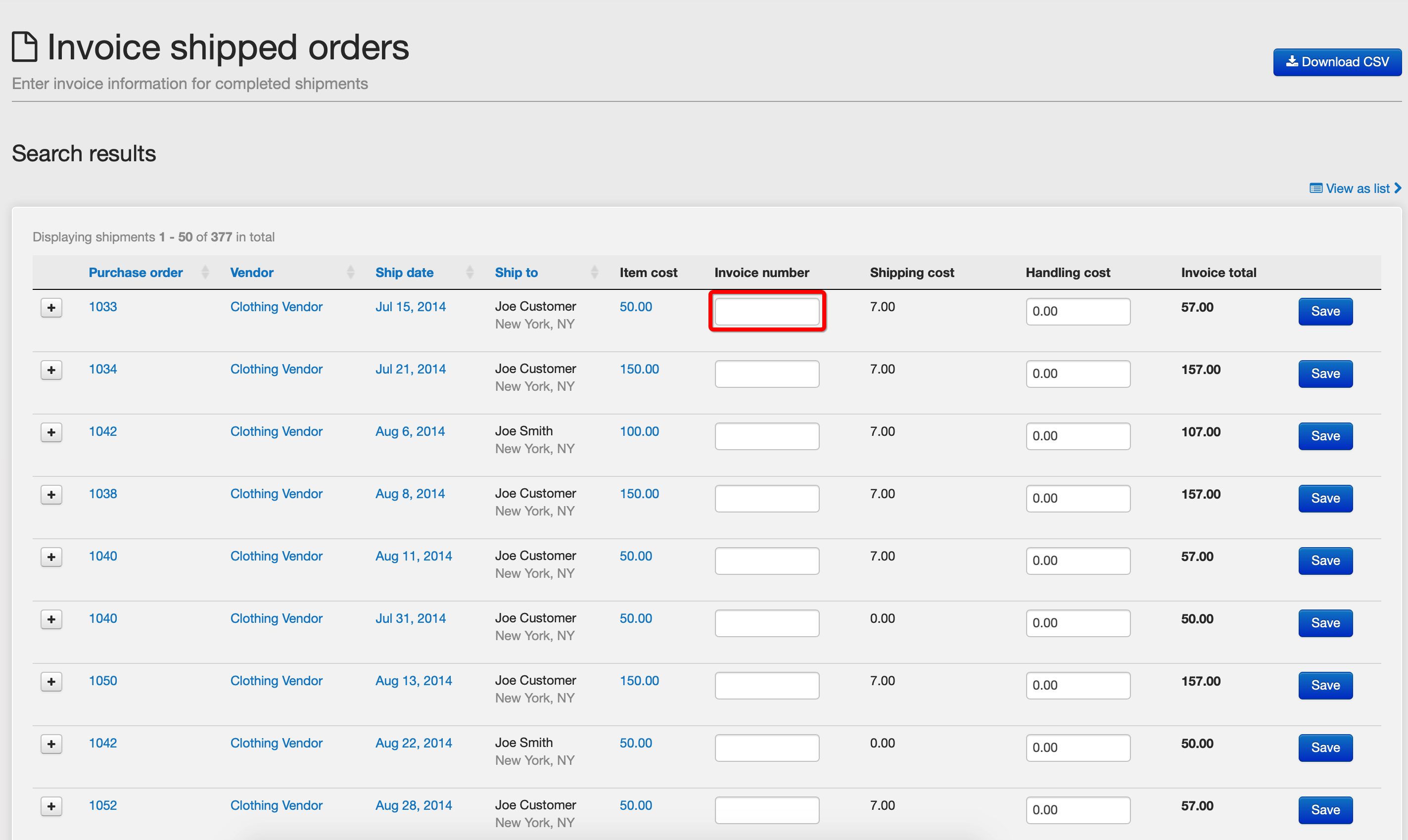 Additional Accounting Actions - Retailer Only
Within the retailer account you can perform several additional actions that will help track vendor invoices as well as alert you to any cost discrepancies. You can access this menu by clicking on the Accounting tab on the left hand side, then navigating to the appropriate option on the menu.

Reviewing wholesale cost discrepancies
If a vendor submits an invoice with a wholesale cost for an item that is different than what you have in your Duoplane records, you will be notified of it here. You can use this tracking tool to select the right cost for the order, update the cost in Duoplane for future orders, and track items that may need to be addressed with the vendor.
Approving outlying invoices
When a vendor submits an invoice that exceeds a certain shipping threshold, you can set it to be reviewed before it is approved for payment. The threshold can be edited in the accounting settings.


Completing credit memos for returns
When a return is entered in Duoplane a credit memo is associated with it to ensure you receive a refund from the supplier for the returned item. On the accounting tab you can view your outstanding credit memos, mark them as received, and view the returns/orders that are associated with them.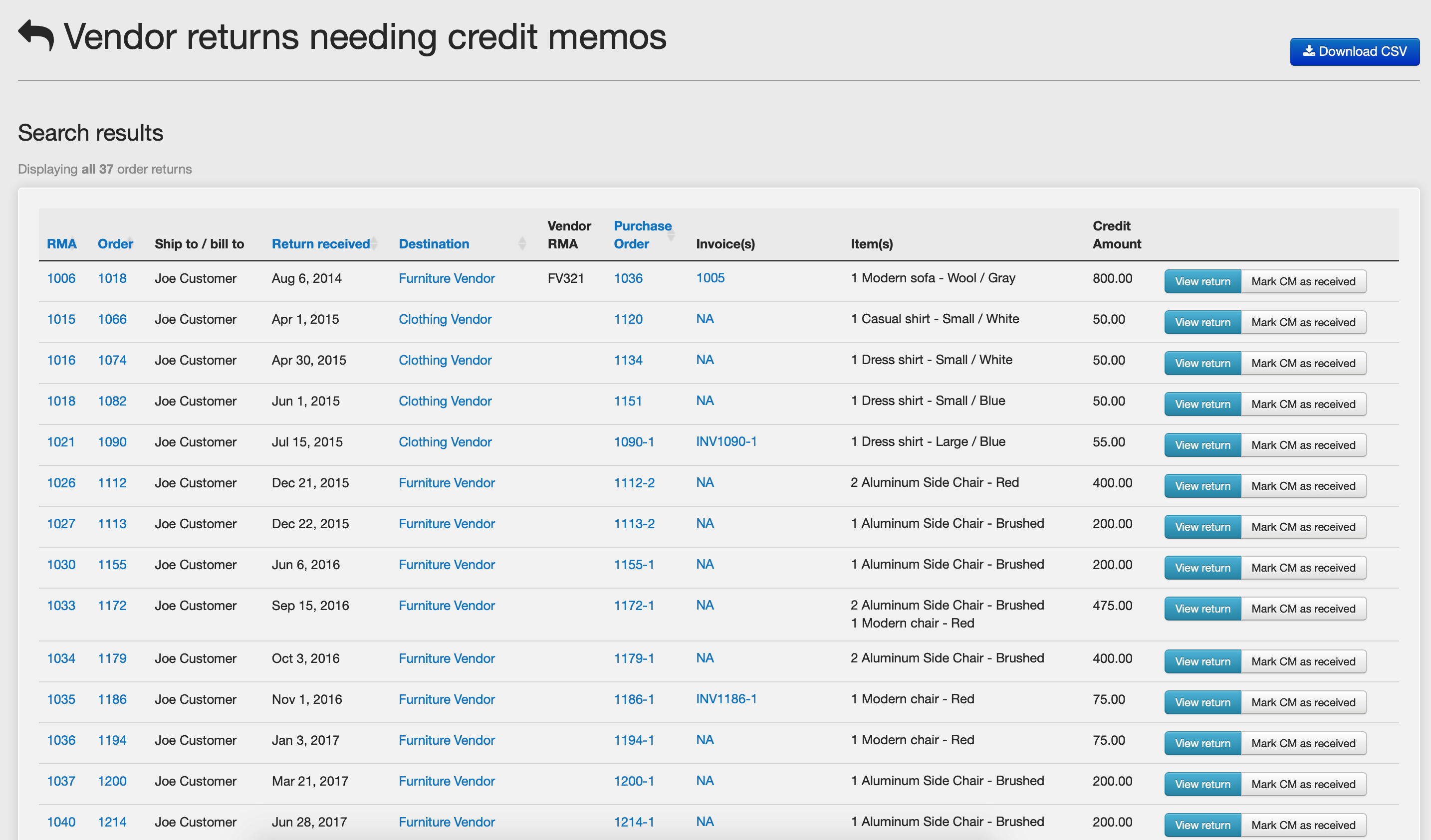 Accounting Synchronization
If you are on the Professional plan or above you have access to the Duoplane accounting integration. Duoplane supports integrations with Quickbooks and Xero. Details on the accounting integration with Quickbooks can be found here; details on the Xero integration can be found here.
After the accounting integration is setup, you can go to Accounting --> Accounting Sync, then click Run export. This will export all invoices to your accounting system. Once the invoice is marked as paid in your accounting system, Duoplane will send a payment report to your vendors for the paid invoices.

Configuring Accounting Settings
Before starting the invoicing process with your vendors you will want to make sure you review the accounting settings in your account to match what is required a part of your business's processes. You can access your accounting settings by going to Settings --> Accounting, or by navigating to this link. If you have any questions on configuring your settings you can reach out to Duoplane support for assistance.